Homeland of SURUSUMI the Great Horse
MEIHO Roadside Station for Drivers
Michinoeki MEIHO SurusuminoSato Koen

Everyone's favorite, "Meiho furanku"or frankfurt sausage and "keichan!"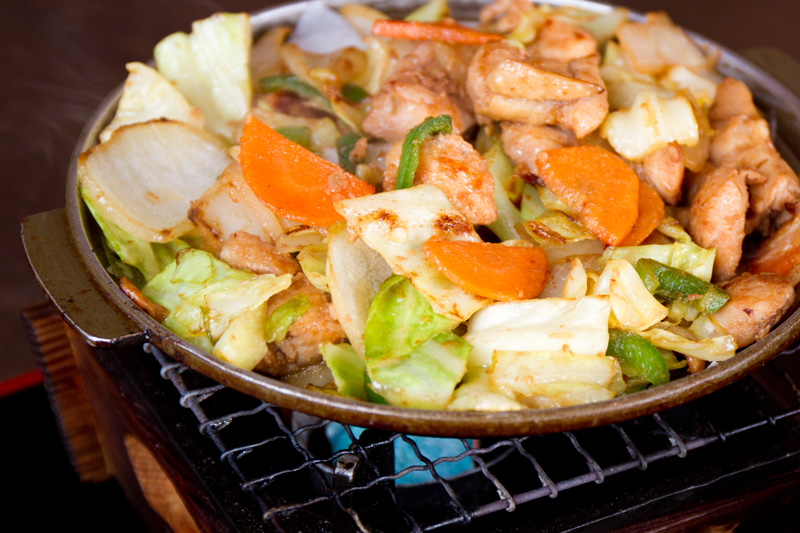 Meiho Ham and "Meiho Franku" sausage are the most recommended! Traditional local cuisine, "keichan" chicken (see photo) is also highly recommended. Keichan is chicken meat soaked in a homemade sauce, and cooked with vegetables such as onions, carrots, cabbage and other local vegetables.
Your other choices are Okamisan Bento lunch set cooked by local moms, Onigiri rice ball made from home-grown rice, Okumino curry and rice, Omu-rice, a Japanese home dish made with Meiho Ketchup, etc.

MEIHO homemade goodies lined up!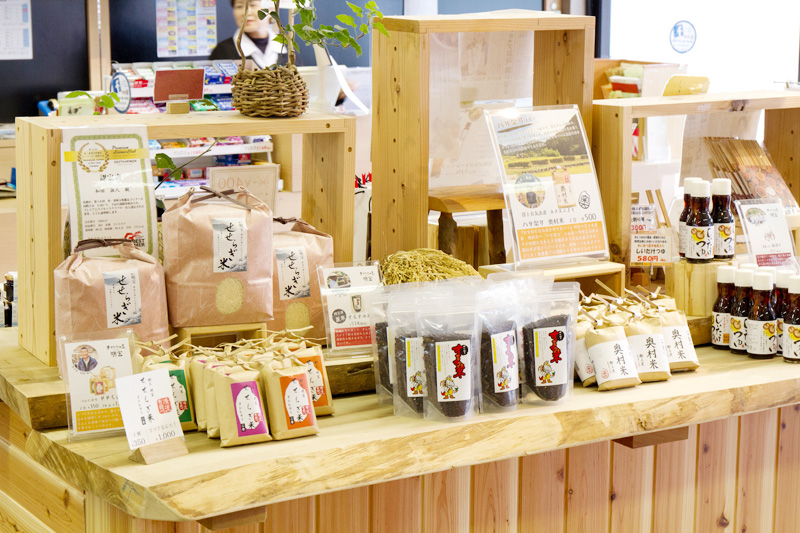 At the Meiho fresh market corner, spring wild vegetables, home-grown seasonal vegetables, flowers, rice, chestnuts, and jams are lined up. In the local products area there are homemade goodies, especially additive free Meiho Ham, gelato ice cream, "Keichan" chicken meat in the cool storage space are very popular. "Keichan" chicken meats vary in tastes and are seasoned in homemade special sauces such as soy sauce taste, miso paste taste and saline taste.

You can enjoy its beautiful scenery!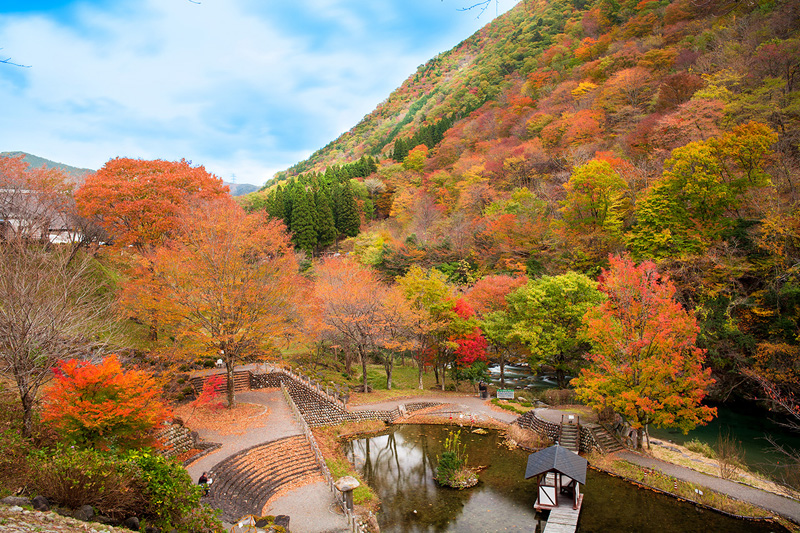 Michinoeki MEIHO is one of the very popular roadside stations to take a rest for people who are traveling by car. The facility is located on the Route 472 or Seseragi Kaido Road. It takes about 20 minutes by car from Gujohachiman which is well known for its Gujo Odori dance festival in summer, and about 1 hour south by car from Takayama which is a fascinating destination for tourist from all over the world.
Michinoeki Meiho is situated in the evergreen mountains and faces to the limpid Yoshida River, a tributary of the Nagara River. The views there are beautiful throughout the year. The nearby Satoyama area is also highly recommended to visit. Meiho Ham and Meiho Tomato Ketchup are popular nationwide and remain long-selling local products. Another choice for shopping is the regional cuisine "Keichan" chicken meat. The restaurants and take-out shops offer delicious and unique dishes or snacks prepared with a variety of local ingredients. At the Surusumian, a free rest space, anyone can enjoy the "irori" or traditional Japanese fireplace. The special flame was picked from the one of Chiba family in Meiho whose flame has been kept for more than 800 years.
Eating an amago fish or iwana fish grilled by this special flame (pay service) at the riverside gives you a special moment during your trip.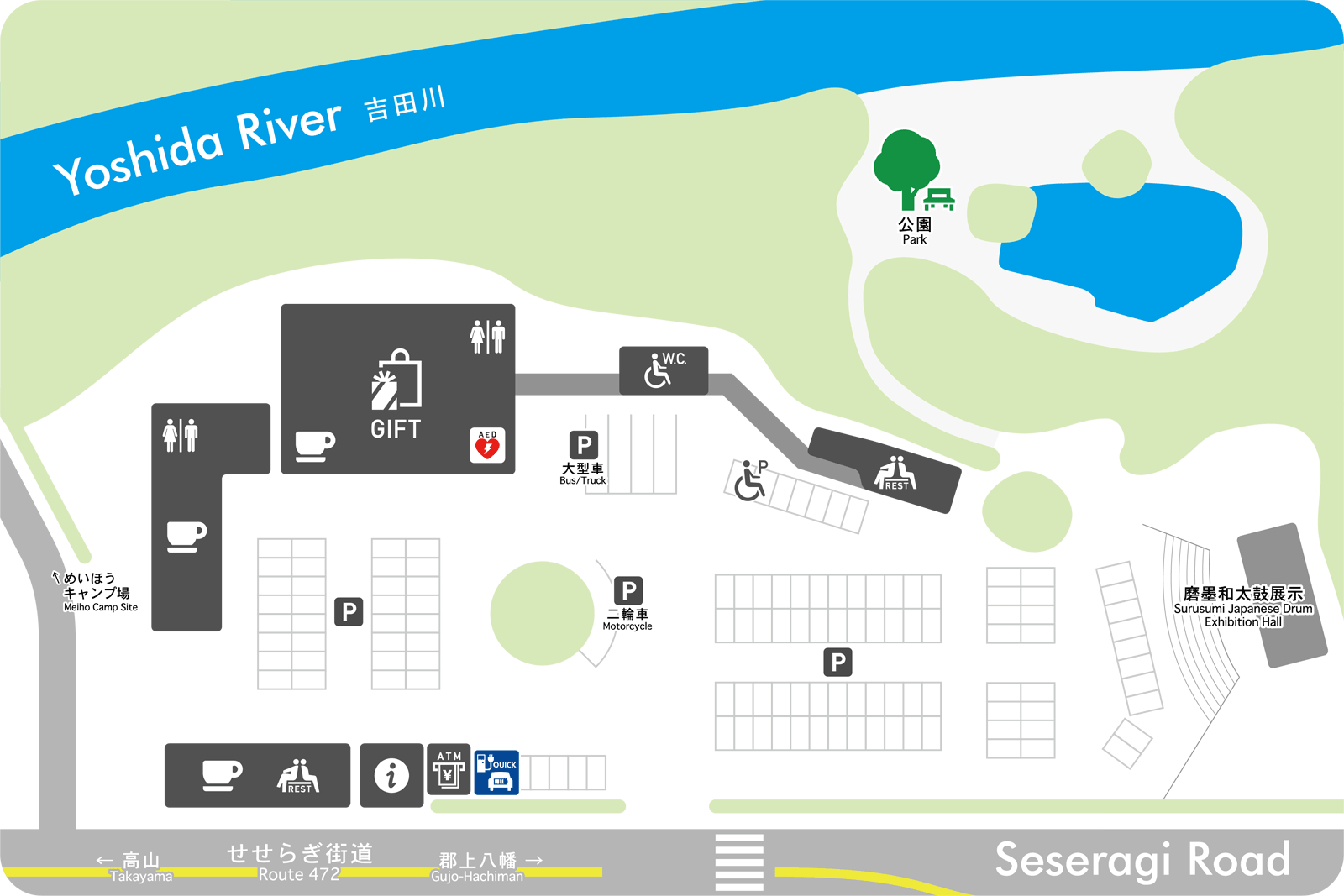 ---
Tourist Information Office

man···22
female···15

1 toilet with slope

4 buses and trucks
120 cars

2 parking spaces

Gift shop & Fresh market

Restaurant, Take-out shop

ATM

Public phone

Park

Free rest house

EV charger

AED
Name of Facility
Michinoeki MEIHO Surusuminosato Koen
/ Fresh Market MEIHO
TEL
In Japan: 0575-87-2395
From abroad: +81575-87-2395
Open hours
Open daily
Shops / 8:00-18:00 *Shops rotate their holiday operating hours.
Tourist Information Office / 9:00-18:00 *Closed dates vary.
CLOSED
Open everyday (Depends on each shop's calendar)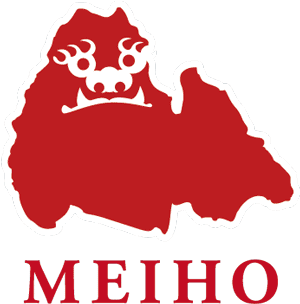 ©MEIHO Roadside Station